RACE, RHETORIC,
RASTAFARI

NOW ON DVD FOR THE 1st TIME........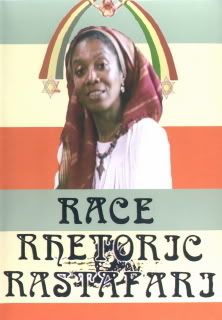 £9.99+(P+P)

In 1982 Jamaican author and film maker Barbara Blake Hannah visited England, where she had lived from 1964-1972 and in that time become Britain's first Black TV journalist – appearing each weekday evening on THAMES TV's "Today Show with Eammon Andrews", ATV-Birmingham and later working in production with BBC-TV's "Man Alive" current affairs programme.

Now a Rastafarian, her view of England after her ten years absence is expressed through six interviews with Black and White Britons who give their views on the tragedy of negative race relations in England and the resulting rise in Rastafari views among Black youth.

Filmed in London and Birmingham, the film presents a case for racial harmony through understanding that all are Children of One God.

Music by Jimmy Cliff, The Rastafarians, I-Jah Man Levi and Black British reggae group, Ras Messengers.

here is a sneak preview of Ras Messengers performing live in the film...........