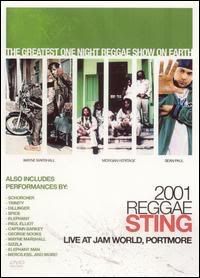 I recently came across 2x Sting concert dvds for 2001 + 2002, i later heard that these 2 dvds released by a company in Canada are advertized as part of a 24x dvd set of the Sting Concerts, it states that the set includes concerts beetween 1981 - 2004 and is 24x dvds in all, so as you can imagine i was pretty excited to hear that some of the early Sting concerts where now available on dvd. So i did some searching round and could not find any other years from this dvd set, i looked everywhere.
The 2001+2002 dvds where released in 2005 according to the covers, so you'd have thought that there would be others available, the website listed on the dvd no longer exists, i have some in Canada whose kindly offered to go and check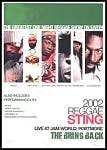 out the adress of these guys to see if they still exist, so i will post an update if anything comes from this.
The other mystery is the fact that Sting has only been going since 1985 so i was told the other day, if this is true then how can they have 1981-84 in this dvd set, so this mystery goes on, if anyone has anymore info on this dvd set then please leave a comment below....