New film poster 2012
The Marijuana Affair was a film made back in 1975 by Hollywood producer William
Greaves
& promoter Lucien Chen. The film features Carl Bradshaw, Calvin
Lockhart
, Charles Hyatt, Ingrid Wang,
Evett
Hussey
, Basil Keane,
Ranny
Williams and attorney and politician Dudley Thompson. With a jazz score by trombonist Melba Liston.
I've not been able to find much more info about the film but i know it was made in Jamaica and
i'm
interested in the fact that Carl Bradshaw was in the film, i also know that it was never released properly,
i've
read that the film was a bit of a rush job and not of the highest quality which is maybe why it was never released.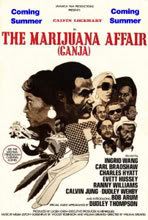 The good news is that an
american
distributor has recently announced that they will be releasing the film shortly, so
we're
awaiting it's release, i will post up any updates hear and when i get a
dvd
release date it will be posted up.
If anyone has anymore info on this film please post a comment.......