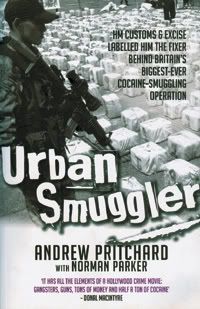 British born Jamaican Andrew Pritchard will bring his own true-life story 'Urban Smuggler' from the best selling book of the same name to the big screen come 2009. With issues of drugs, drama and some serious double-crossing, it has all the components of a great story.
At the film reception held in the gardens of the Jamaica Pegasus Hotel on Sunday September 14, Pritchard and company outlined plans for a major international film, which will begin shooting in Jamaica early next year.
The first film to be made under the Anglo/Jamaican film production treaty, 'Urban Smuggler' chronicles Pritchard's introduction to and dominance of the world of hardcore drugs and its shipment throughout Britain's major ports and the corruption at the highest level, which made it all possible.
With locations reminiscent of a James Bond movie, the story will take viewers to Jamaica, London and Cuba. Producer Paul Tucker who has extensive experience with several major movie houses in Hollywood including Paramount, Twentieth Century Fox and Disney, is on board with this latest project.
Tucker, whose contribution was seen in several Bond movies including 'Live and Let Die', said that they would be scouting the island for the most breathtaking and exotic locations and the film will feature some great local music.
An intriguing storyKirk Kennedy, executive director Investment Promotion at Jamaica Trade & Invest, said that Pritchard's life story is definitely an intriguing one and has laid the groundwork for this project.
"His description of his life and character has no doubt been numerous and varied over the years — hustler or should I say smuggler, entrepreneur, businessman, lover. The list is extensive but the most important label I think is that of survivor. From hustling in the streets to now helping those on it, Andrew has done things few people have ever been able to do. This is a story of choices made, both good and bad, that changed a smart boy into a wise man. A story so compelling and eye-opening that it will be immortalized on film.
"This is where JTI comes in. As the country's' primary trade and investment agency, we took the decision to get involved in this project that has its roots in our island. But the benefits are two-fold. We at JTI see this as a firm platform to show the world our beautiful country in its entirety both tradition and non-traditional. JTI is committing its time, energy and resources to ensuring that the world sees the magic of this land through the experiences of one of its sons both here and on the other side of the world."
There was a showing of the film's trailer and excerpts from the book were read before author and producer, Andrew Pritchard spoke of his personal life turned public information.
"I've had a very interesting life and coming back to Jamaica for me, makes me feel proud and hopefully, I can give back to this country that has given me a lot.
"'Urban Smuggler' is my life. Jamaica is more entrepreneurial than any other country in the world as the smallest higgler have the guts to do anything he or she wants to do. I may not be a role model but I've always wanted to do thing my way.
"I may have led somewhat of a controversial life but my aim now is to give something back to Jamaica. I would like to help with the promotion of the island and open the world's eyes to the true beauty, which in turn benefits and boosts the local film industry and will also expand eco-tourism."
Above article taken from The Sunday Herald
Written by: Nicola Cunningham
"Oh yes, I was a smuggler," Pritchard admits without reservation, in an interview the day after the local launch held recently in the gardens of the Jamaica Pegasus Hotel. His smuggling escapades, however, were limited to Cuban cigars and those of the counterfeit variety - never cocaine or any such drug, he emphasises, his British accent sounding thick.
Born in Britain to a Jamaican mother who migrated to that country in the 50s, in the book, Pritchard says that his introduction to smuggling came as a child on his return trip from Jamaica to England. He recalls wondering why the suitcases he and his sister were taking home were so heavy. "When our suitcases were opened, they revealed dozens of bottles of white rum. I remember being amused, if not shocked. This, then was to be my first experience in smuggling."
And, if smuggling is to be defined as taking steps to import a legal substance without paying the customs and excise duties, then Pritchard here has quite casually opened a can of worms. Which traveller can honestly say they have never tried to 'hide' an item from the prying eyes of Customs officials in order to avoid paying duties? So, does that make us all smugglers? (Those of you without sin cast the first stone.)
Courtney Campbell reading from the book Urban Smuggler.
The author guilelessly recounts his chequered past - starting out in 1988 as a promoter for 'warehouse parties' - illegal, all-night events - through to 2004 when he became intimately involved with the Cuban cigar smuggling ring. The Foreword says it all. "Andrew was known to the police and the underworld from early 1980s when he was at the centre of the rave scene which transformed youth culture and drug use in the UK."
So, making strides in his career, Pritchard finds more lucrative ways to earn a living. "We brought top-end Cuban cigars and found a way to circumvent the excise and duties, which were ridiculously high at the time," he told the Observer. "We later started smuggling counterfeit cigars through Cayman into England as well," he added.
And, crucial to the success of this smuggling enterprise was the Fast Team of Customs officials on Pritchard's payroll, whose job it was to send through his containers of cigars without them being searched.
It was while on his way to pick up one such sealed container that Pritchard's neatly stacked deck of smuggling cards came tumbling down. He was arrested and charged with smuggling half a ton of premium grade cocaine with a street value of $100m, as that was what was allegedly found in the container, not cigars.
The nightmare which followed saw a court case which cost nine million pounds, two hung juries and a final acquittal.Surely the stuff of which books and films are made. And also the stuff from which the smuggler-turned-author made tons of cash. ("Oh, yes, smuggling was quite a lucrative enterprise," he told us.)
Casting is now being done for the international feature film, which will also seek to incorporate the "love" aspect of Pritchard's life - the part where he meets Jamaican beauty queen Erica Aquart, falls in love, and they live happily for some time and even have a son together.
Paul Tucker, who has worked with Paramount, 20th Century Fox, Disney and Icon, among others, will be the producer and he is quite excited about the project. "I've worked in Jamaica before with the Bond movie Live and Let Die and also on a project with Gene Hackman. We have already looked at some stunning locations and Jamaica will definitely be shown in a positive light," he said.
Urban Smuggler, the movie, has the blessings of Jamaica Trade and Invest and will be the first film to be made under the Anglo/Jamaican film production treaty.
Above article taken from: THE JAMAICA OBSERVER
By Yasmine Peru, Entertainment editor
Monday, September 29, 2008