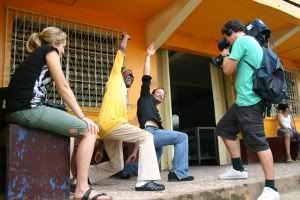 A new Travel Channel documentary was recently being filmed in Nicaragua. The Bluefields Reggae sound system will be featured in the new series of 'Julian and Camilla's World Odyssey 2' which will air in the UK in June 2009.
I also noticed that the previous series included an episode on Jamaica, details below:
Julian & Camilla's World Odyssey - Episode 10: Jamaica
Taken on a ride in this land of "no problem mon", problem situations soon surface as an opportunist surfer aggressively attempts to swindle them in broad daylight. After a serious look at Rastafarian politics, Julian discovers the secret to jerking and Camilla discovers the secret to ganja cultivation. After meeting Jamaica's cruisers they decide to get down and dirty at the world's most famous free love resort.
Article below+picture taken from the bluefieldsound.com website:
"Recently the Travel Channel UK came to Bluefields Sound System to do a piece for an upcoming show. We were excited to have the opportunity to let London know not only what is Bluefields Sound System, but to give them a taste of what makes Bluefields' style so original. During their brief, visit they got a taste of what the school is all about, spent some time checking out the city with Sabu, and visited a talented imprisoned singer by the name of Clifton Bent AKA Sexy. If you're in the UK, look for the show to air sometime in June."